Tuesday, November 14, 2006


10:05 PM;
i miss blogging.. :(
naku! tagal na rin palang hindi ako nakakapag post dito sa blog ko.. di man lng ako nkapag sabi na magleleave ako.. anu ba yan! whaa! sorry sa mga hindi ko nabibisitang blog chaka ung mga hindi ko nakakausap, sorry po talaga!
Ang dami kong kailangang icatch-up! i miss blogging n rin e..
cge, hahabol po ako.. :)

|
Wednesday, October 18, 2006


7:23 PM;
when sadness strikes..
i dont know what happened but suddenly, everything is falling apart. From friends, family, studies and unexpected things.. sigh. I dont know! Probably its because i've been toooo happy, tooo busy, tooo careless and too bad for the past few days that now,
karma is striking back at me.
Ang hirap isipin nang mga pangyayari, to tell the truth.. nakakalungkot talaga. I cannot find a day kung saan walang naging problema.. Ngayon, kahit yung mga napakaliit na issue ehh.. makakapagdala ng lungkot sakin.
See! i was totally right! na.. dahil sa pagiging sobrang saya ko noon, na may dadating na part kung kelan babawi at magiging malungkot.. ito na yung mga araw na yun.. i hate it..
cge, wala aqng ganang magtype.. EDIT later, if ever..

|
Friday, October 13, 2006


8:01 PM;
Three things that i cannot hide.. =)
Cough, laughter and my voice- take this as one n lng! haha! hindi talaga mpigilan yan e..
Anger- hindi ko to kayang itago, usually.. it shows na lang talaga, kaya halata!
Admiration?- isa na rin siguro to, mahirap naman talaga diba? for some, madali lang siguro.. but i guess this falls for a different category na rin, pero isasama ko na! ;)
-Yan yung mga nasa isip ko ngayon, na sa tingin kong hindi ko kayang itago.. those things usually shows nga. Nakalimutan ko na kasi ung sinabi sa IL MARE ehh.. try ko n lng isearch sa net =) nga pla, hindi napat ito ung post ko e.. para kasing ang private nung isa!
---------------------
CAN ANYONE TEACH ME?? kung panu gmwa ng protected post? pwedi ba yun dito? ;) thanks! :D

|
Wednesday, October 11, 2006


7:21 PM;
depende na sa akin ang LAHAT.?
What makes coffee sweet? Sugar? Wrong. It is the stirring that you do after you add sugar. As in life, it is what you do with what you have that makes your life worth living.

Ignoring the facts, does NOT change the facts at all.

The happiest of people don't necessarily have the best of everything, they just make the most of everything that comes along.

--For some reasons, i find this quotes nice! grabe, while reading this.. i actually had some weird realizations in life ;) Alam ko naman na nasa akin yung desisyon e, hindi ko nga lang alam kung anu or saan ako susunod. I admit na masaya ako ngayon. For everything i have and dont, meron akong kakontentuhan na nararamdaman. Pero dumadating yung point na.. parang may kulang, alam kong may LIMITATION ang lahat ng to, alam kong dapat may tigilan na akong gawin, alam kong hindi dapat. Pero because it makes me happy.. gusto kong ituloy. Nasa akin pa ba talaga ang decision? siguro nga hindi na. Bahala na siguro. Gulo ko ba? masyado bang madrama? ;p -bkt parang tulad lng ng isang post q nun? ;P nevermind.. :D
May mga taong manhid talaga! hindi ko lang alam kung totoong hindi nila alam o kung katulad ko rin sila.. na hindi na lang pinapansin and lahat. Mas mabuti pa.. 'Gaguhan' na lang siguro, sbi ni lecxis ;). Hindi ko alam at HINDI rin nila alam. Patuloy na lang na maglokohan.. ;) un lng. :D

|
Tuesday, October 10, 2006


1:16 PM;
finaaally! exams are over! ;)
-no more latenight coffee.. para lang gising sa pagaaral ;p
coffee has been my best friend sa mga nakaraang araw.. hahah!
haayy! salamant naman at tapos na rin ang exams! super saya dahil finally makakapag comp na ulit ako! at makakatulog na nang maaga! though.. i am not sure if i did well sa test! Science, still not sure.. hindi ko alam kung tama ung mga pinaglalalagay ko, pero hopefully makapasa ako! anyway,
MATH was such a bummer!
sayang ung ilang oras ng pagaaral ko sa math with teacher luz (advance math techear ko) sayang ung ilang saturday morning na inukol ko para sa math! :(( enough about it na lang! ayooko na!
--(may nakakahiyang nangyari sa mocha blends awhile ago.. ;p pero khit gnun, masaya prin!)
lecxis at lavinia, nasa house ni Yukari ngayon! tooo bad na hindi ako nakasama! i misunderstood my mom kasi! akala ko hindi pwedi.. pwedi pala! hahaha.. pero ayos na rin dahil nakapagpahinga na ako..
--*.i hate this feeling, my heart and mind.. are talking at the same time, hindi ko alam kung anung susundin ko. i saw him knina! and dont forget.. i saw a smile on his face na minsan mo lang makta, masaya sya.. kc may ibang kasama.. ouch. Panira pa kasi e, bakit ba hindi ko na lang tigilan?*--

I got the whole day wasted in front of the computer! Well, hindi naman tlaga wasted ehh.. i got the NEW version na ng pang animate ng GIF. Nawala ko kasi yung file nung dati e.. tas biglang wala na akong makita sa net, kaya im soo happy na nakakita ako!
-i made a siggie agad! gamit ko na dito ;) i added some pixel designes na rin dito para hindi ganung kaplain :) thanks nga pala sa.. BOUNCY BUBBLES para sa mga pixels and blinkie makers..

|
Saturday, October 07, 2006


2:24 PM;
pictures nung expo.. (bkt ngyon lng toh?)
tinatamad kasi akong mgupload.. kaya ngayon lng to! ahahah!.. i cant edit the post na ginawa ko about sa expo trip! kaya ito.. bago n lng ;)
solo ni sir! =)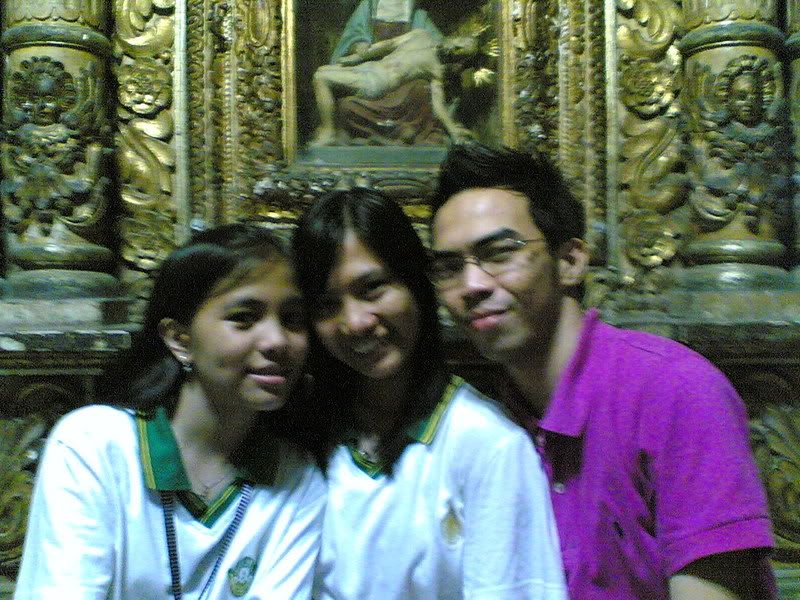 lecxis and i together with sir martin! =) sa paete..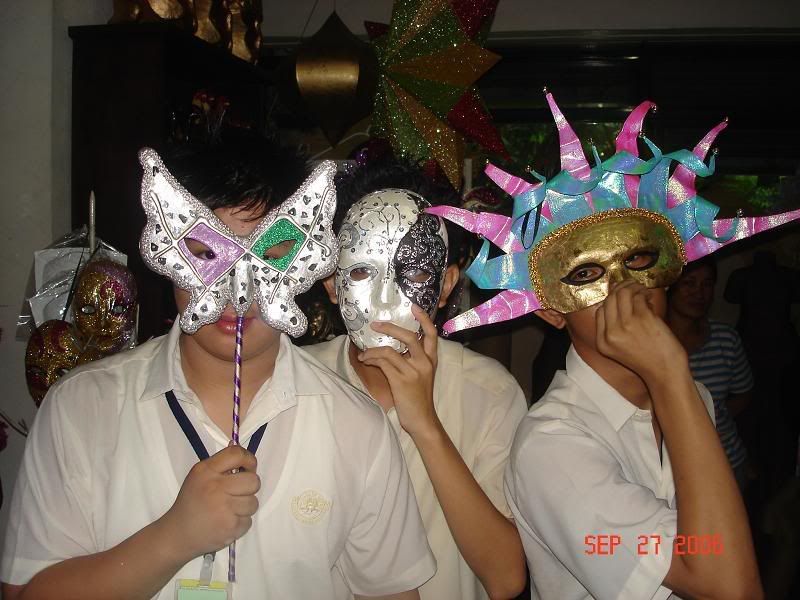 boys naman ng DOR.. haha! kulit! =)
jeshia and i! mask trip'n.. :)
kami namang tatlo.. >:p
umuulan na at lahat.. picture-picture prin! habang naglalakad yan! ;)
lola bebs, christian.. ako, martha at adriel :) basang basa!
bkt ito lng pwding maupload? =( ayaw na nung iba.. bsta, check out my friendster acount n lng :)

|
Friday, October 06, 2006


5:16 PM;
exams; house ni jesh; dogs; ouran =saya!
nagtake kami ng test sa
english, ccf and computer
knina :) the test was fine.. hindi naman ako dinugo dun! i just wish na makapasa ako.. ;)
after the test.. we decided to go sa house ni Jesh! para sa... wala lang! :) ang saya! kung anu-ano mga panag-gagagawa namin ehh! from watching a movie with yukari.. kwentuhan sa tabi ng fountain, share-share ng kwento sa piano, sound trip, walking the dog at kung anu-ano pa! ;) it was really fun! its nice when you dont plan things and it turns out nice.. :) nung pauwi kami.. lakad to the max talaga! ;)
'ordinary things done with extraordinary efforts brings out the best things'
.. aahahahha! :)
nga pala! tapos ko na ung ouran!
the ending was suppperrb!!
ang cute lang tlaga! i didnt expect na isa c Kyouya sa pagpipilian sa ending! actually.. it wasnt really clear kung kanino talaga siya napunta but it was basicaly between Kyouya and Tamaki! ahahahah! adik na ba? ang ganda kasi talaga e! :)
hindi pa ako nagaaral for the following test.. buti n lng i still have 2 days ;) ge.. magpapakasawa muna ako sa net!

|
Monday, October 02, 2006


8:48 PM;
haaayy..
"things change.. people change.."
bakit ba ako masyadong nakakarelate jan in many ways? from time to time.. narerealize ko na tama nga c kat! walang bagay na permanent.. when it comes to our life, 'friends', environment at feelings. may mga bagay na gusto mong mag stay as what they are now, may mga bagay din na ayaw mo nang madevelop or tuluyang magbago. things are really unpredictable! im afraid sa things na posibleng mangyari! what if.. di mo na mapigilan kahit alam mong bawal! puttekkk.
currently.. semi-confused? :D (watta word!)
anu mas gusto mo? taong.. alam mo na kung ano tlaga siya. ung tipong.. what you see is was you get or ung taong.. napaka lalim? na kailangan mo pang totaling makilala before siya makapag open-up sayo? both have advantages at disadvantages.. gusto mong pareho na lang pero hindi mo kayang ihandle and dalawang taong magkaibang-magkaiba ng ugali :( ang hirap..
meron pa palang isa! may mga taong nagpapalungkot sayo. na in some ways.. pnapakita nila the things that you never expected them to do, at ung mga taong hindi mo inaasahang gagawa non.. sila/siya ung nanjan para icover-up yung mga pagkukulang. you feel so dissapointed yet happy na may iba palang tao jan para sayo. :)
like i have said earlier.. lahat nagbabago. hindi ko lang matake na it changes so fast na hindi ko na masakyan :(
i want things to go slower..

|
Wednesday, September 27, 2006


8:31 PM;
exposure trip..
edit this next time.. no time to post :( i CANT open my blog.. wlang internet for several days dahil sa bwisit na blackout! as of now.. all i can say is.. best expo trip to.. ;)
lahat nang nangyari.. nasa utak ko pa! :)) yes.. one of the best expo trips talaga!
paglalakad sa ulan.. pagaagawan sa payong.. bus trip! mga kalokohan ng DOR! :) picture time, mga realizations at kung anu-anung kababalaghan! hindi pweding in-details ang sbihin.. baka mabulgar! --HAHA! :)
and saya ng bonding! at ung mga naging problems.. actually lead to good things! hehehe ;) hindi ko ineexpect na magiging ganito ang lahat sa DOR, they taught me how to move on. :) saya..how i wish na.. ganito rin tayong lahat sa feild trip! if ever na payagan ako.. ;)
*bus, starbucks, stop-overs, cellphones, pillows, ipod;MUSICS!!, gardenia.. paete! lahat na!*
SOME PICS! =) *sa other post*
nakakatamad mag-upload ng sangkatutak na pics e.. ;) hehe

|
Tuesday, September 26, 2006


7:17 PM;
a sobbing day! urrg..
nakakaasar! kung kelan bukas na ung TLE exposure trip.. chaka naman ako sinipon! asar talaga! the whole day.. singhot lng ako ng singhot with matching tears pa! haaayy..
the first part of my day was a mess! wala, nabadtrip lang kami sa isang 'girl' pero now.. okay na! we actualy said sorry kasi narealize namin na we treated her really bad talaga for the past few days :( sana lang maayos na ung conflict between us and her.. ;) si Nazarene din nga pala, SUPER nakakaasar lalo na nung math time! haaay, patuloy lang sila sa pang aasar sakin!they kept on singing songs na talaga namang nakakairita! pero half of it was fine lang kasi tawa rin kami ng tawa nila lecxis! ;)
'something' made my day! but as usaul, it seems that the 'thing' doesnt want to reveal itself..
i am feeling that something is about to change one of these days.. i hope na it is for good :) also, something is not clear to me.. hindi pa kasi tlaga ako sure dito e.. :(
btw, bukas na exposure trip.. sana masaya rin gaya ng reco namin non! we have many, MANY plans na.. i cant wait for tomorrow! :)

|